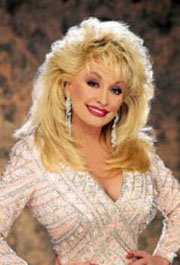 Kiss My Grits


by Dolly Parton

1 cup stone-ground grits
1/2 teaspoon salt
2 tablespoons butter

Dolly said grits were always on her table, for breakfast, lunch and dinner. She goes on to say in her Dolly's Dixie Fixin's cookbook that it is not much trouble making grits. She says when Mama cooked them, it was done with such love that they always tasted really good.

Bring 4 cups of water to a boil in a medium pot. Add the grits and salt, reduce the heat to low, and cook for 25 minutes, stirring occasionally. Add the butter and cook 5 minutes more. Serve steaming hot
Serves: 6